A Veneer is a thin ceramic facing that is cemented or bonded to the front of a prepared tooth- like a false nail!
Veneers can be used to cover stained/discoloured teeth or to improve the shape or position of a tooth and can be used to close small gaps between teeth. They are available both on the NHS and Privately- Private Veneers can be more attractive due to type of ceramic they are constructed from and the time taken to design and match the surface detail to your own natural teeth.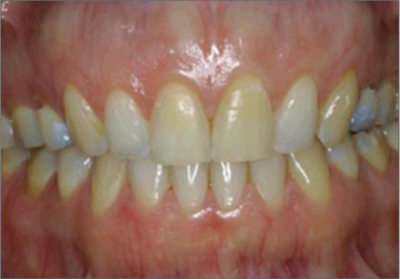 Before After
The procedure for a ceramic veneer involves two visits with a two-week interval during which the lab will construct your custom made Veneer. Great care must be taken to ensure that the tooth/teeth to be veneered are healthy and the supporting gums are also healthy.
During your first visit the front surface if the tooth is filed down by a small amount, an impression is taken and a shade is agreed. Two weeks later the veneer is tried in and once you and your dentist are happy the veneer is cemented in place.
Been with the practice from day one and have recommended it to friends.
Mrs Morran, Perth.
Lovely friendly staff, always a parking space and great service!
Ms Rowan, Bridge of Earn.
Delighted to finally find a local dentist that understands an older patient's needs.
Mr Jones, Scone.